Search by Category
PHILANTHROPY
At Equinox, we're big believers in inspiring change. Philanthropy is woven tightly into our culture. We believe donating our time, energy and financial resources can lead to tangible results and help others reach new heights. That's why our philanthropic goal is to help everyone push the boundaries of what's possible, for themselves and for each other.
CYCLE FOR SURVIVAL

Beating cancer takes courage and determination. And it's those two attributes that fuel the Cycle for Survival initiative, helping it grow from a single event one club in 2007 to a global fundraising powerhouse that has raised over $30 million towards cutting-edge cancer research in 2016 alone.
As a founding partner of the Cycle for Survival, we're proud to be committed to such a good cause.
THE HEROES PROJECT

We know our trainers impact people's lives in incredible ways. But sometimes that commitment and partnership can make history. Meet Marine Staff Sergeant Charlie Linville.
Linville's journey began in Afghanistan in 2011. While conducting an IED sweep, he was blasted into the air, suffering a traumatic brain injury, severe spinal trauma, two amputated fingers, and eventually an amputation of his leg below the knee.
Fast forward to 2014, with The Heroes Project, founded by Tim Wayne Medvetz, alongside Equinox Charlie commits to climbing Mt. Everest. The Heroes Project works to make the impossible possible for injured war veterans. And it gives them the training they need to climb some of the most demanding peaks in the world.
His journey to the top started at with us, completing eight weeks of training under the guidance of Coach Ed Gemdjian and the Tier X Coaching team.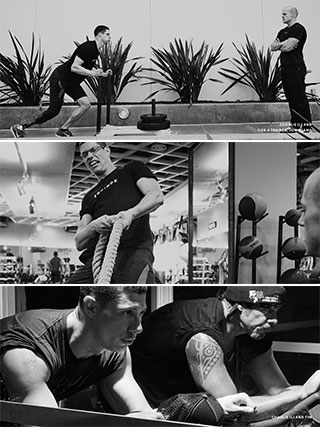 We helped Charlie focus on functional movement using ViPR, kettlebells and other balance-specific training to compensate for his leg and prepare for the treacherous terrain of Everest. Cycling in a Hypoxico chamber got Charlie's heart-rate ready for the attitudes he'd be facing, and regular runs built his stamina to an almost super-human level.
On May 19, he finally made history as the first combat-wounded veteran ever to reach the top of Everest.
Learn More
We strive to maximize potential in everything we do—take a moment for a deeper dive into the areas most crucial for our mission.
Bringing new members into the experience, providing unparalleled personal training, and investing in a better world for all: these efforts help make Equinox a brand without compromise, and a premier destination for your career.