Search by Category
Personal Trainer
As an Equinox personal trainer your career becomes an empowered lifestyle founded on maximizing both your personal and client performance. Under the guidance of two dedicated managers you will develop and refine an approach to programming, education, business and financial planning that ensures your Personal Training career is as unlimited as your passion. Secure a stronger future and help us redefine the science of fitness and the art of living.
Education
Equinox is proudly recognized as the industry leader in Personal Training expertise, with the first in-house education of its kind through the Equinox Fitness Training Institute. For over twenty years EFTI has elevated our trainers to design comprehensive client fitness programs that are safe, effective and results driven. We are dedicated to the professional performance of our team, and compensate our trainers for their education time.
The EFTI Personal Training courses are structured around a hybrid of technology and hands-on experience to refine the practical application of expertise. Curricula includes progressive education through anatomy, kinesiology, exercise physiology, post-rehab protocols and more, including our proprietary Three Cycle System – a program design approach that emphasizes the need to create progression that continues to achieve cumulative results over time.
A TIER FOR EVERY-BODY
Your first objective will be to establish a solid multi-disciplined foundation to personal training through 70 hours of EFTI curriculum. This will include topics like anatomy, kinesiology, physiology, program design, basics of nutrition and regeneration, as well as business support focusing on assessment protocol, relationship building, and professionalism.

With foundational coursework and real-world application under your belt, you will evolve into a confident problem-solver. You are now set to progress your abilities through 33 hours of advanced coursework in topics like biomechanics, advanced cardiovascular training, and musculoskeletal pathologies; ensuring your readiness for a wide variety of clients.

After over 100 hours of education and practical application you have taken your place among the club's seasoned trainers with a wealth of experience working with a more specialized population. You are now primed to continue your professional development by engaging in the diverse offering of internal continuing education workshops delivered by industry leading professionals.

Achieving the Precision Nutrition certification is the foundation of your coaching practice. You are now able to maximize results through the integration of nutrition and health coaching strategies into client movement programming.

You have fully transformed from Trainer to Coach after 150 hours of lifestyle management and coaching skills curriculum. After reaching the pinnacle of the world's most advanced health & wellness coaching, you are now a true ambassador for the "MNR" lifestyle to clients, Members, and colleagues.
Continuing Education
It is our goal to encourage the highest level of education to drive quality programming that leads to client results. Backed by a solid foundation and the latest in health education, our trainers can help individuals implement the right behaviors to achieve their health and fitness goals. Through progressive and continuous effort our Personal Trainer's knowledge base will expand through in-club functional workshops, marquee seminars & symposiums, as well as deep industry relationships with university, equipment, and scientific partners worldwide.
in-club workshops

The combined expertise of more than twenty of today's most progressive thinkers will reframe a broader scope of influences on our health and performance.

High performance living symposium

A summit of the brightest minds advancing the fields of Movement, Nutrition and Regeneration as fundamental contributors to high-performance living. This unprecedented meeting of expertise will present interdependent breakthroughs that are leading the health and fitness industry into the future.

Attend in person or stream it live through our online portal.

Industry relationships

Compelling knowledge from a comprehensive assembly of experts will elevate your approach to personal health, physical performance and ongoing vitality.
Leadership & Development
The PT Department believes in a "promote from within" philosophy. Most of the senior PT Department leadership, both at the national and regional levels, started as personal trainers with Equinox. A trainer who shows the ability to excel in our culture, while also demonstrating key managerial and leadership attributes and behaviors, will have escalating opportunity for growth both at the club and regional levels.
Manager in training

Equinox's "Manager-in-Training" program allows for a trainer to successfully transition from a solo contributor mindset to a managerial mindset. MITs learn from practical in-club experience, webinars, group training, and have multiple levels of Corporate support to ensure their success.

Fitness Manager

FMs drive business opportunity by creating and supporting an unparalleled education experience for the personal training staff at all levels. They are instrumental in the on-boarding of new trainers, new members and new clients.

Personal Training Manager

PTMs are the PT Department leaders at each club. They are responsible for ensuring cultural and operational excellence that results in achieving specific business goals. PTMs seek to be the "mayor of the club" through frequent and consistent social interaction with members, clients and club staff. They are the epicenter of energy and enthusiasm while focusing on the highest levels of client service and talent development of the staff.
Meet Travis
From opening a new club as a Personal Training Manager in Dallas to taking on the role of Regional Director of Personal Training for the Central Division, Travis has made massive gains since joining Equinox. He was there at the beginning of Tier X in Texas, helping grow the Movement, Nutrition, and Regeneration strategy that is the apex of personal training. That drive to be the best was a big part of why he joined Equinox, and why he and his team continues to excel. Because for Travis, it's always about what's next – as well as being excellent at everything in the gym and beyond. And you can't be the best unless you are part of the best.
Travis' Career Journey

Personal Training Manager
Tier X Manager
Regional Tier X Manager
Area Manager Personal Training
Regional Director of Personal Training
"What was it that drew me to Equinox? Quite simply, I wanted to be the best. And to do that I needed to work for the company that does it better than everybody else. We're relentless about improving. We push the edge of what's possible with personal training. It's about education, it's about fitness, and it's about reaching your full potential in the industry. Equinox offers all that and more. And that means there's every opportunity to grow and find what's next for you right here."
Rewards
maximize your potential
compensation & benefits
The highest compensation structure in the industry, with an earning potential of $100K+
Competitive benefits package including medical, dental and retirement planning options
Over 160 hours of paid education through the Equinox Fitness Training Institute
Leadership advancement opportunities such as Master Instructor, Fitness Manager or Personal Training Manager
Access to our global network of state-of-the-art facilities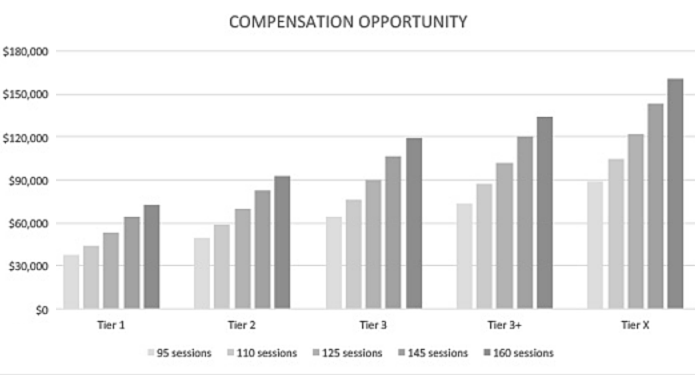 Recognition
EQX Next
EQX Next is Equinox's annual Group Fitness and Personal Training forum. A celebratory event, recognizing the past year's top-achievers and setting new goals for the year ahead. The forum consists of awards, educational panels, collaborative discussions, strategic demonstrations and the EQX Games: a friendly competition showcasing the impressive teamwork and physical performance of our clubs' employees.
Begin your journey